I've always been a Hallmark fan. Maybe it's because I spent two years working in a Hallmark store during my high school years.  I've always loved the cards, the holiday ornaments, and the commercials have been known to make me teary-eyed at times.
And now, as the holidays approach, I wanted to share one of my favorite items from last year's Christmas season – Jingle the Husky Pup and his interactive story book, introduced by Hallmark.
You may have seen the commercials, as you read the story, the stuffed animal pup will bark and respond to different lines in the book.  You sometimes have to read them a bit louder, but the responses are quite cute.  But it was the story, Jingle All the Way, that captured my heart last year.  The images are beautiful and the story is very sweet, and again, Hallmark knows how to bring a tear to my eye and make my heart smile.  I loved reading this book to my kids, and they loved hearing Jingle respond.  My little guy especially loved carrying Jingle around the house last year and giving him big hugs.  We all loved Jingle.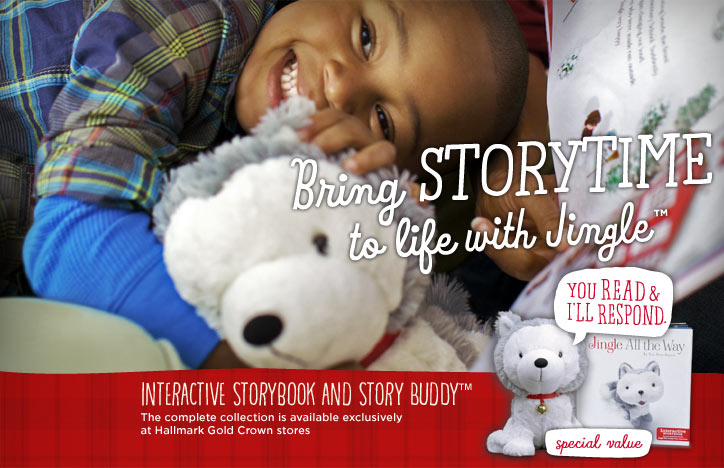 I'm looking forward to purchasing the next story in the series for this year, Jingle's Snow Day.  One of the ladies in my local Hallmark noted that our current Jingle stuffed animal will respond to lines in this new book. And I just saw on the Hallmark web site that they have an animated TV show coming up soon on November 25th to the Hallmark Channel.  I'm looking forward to sharing that with my kids.
If you have little ones, consider this as an early present to bring in the holiday season.  Hopefully Jingle will bring a few smiles to your home.
*None of my Favorite Friday posts are sponsored or advertised.  These are honest favorite items from a Mom with two kids.