The Carolinas Family Photographer | Christmas & Holiday Cards and Your Clothing Selections
The Carolinas Family Photographer | Christmas & Holiday Cards and Your Clothing Selections
Yes, the Christmas music is already playing in my car.  About two weeks ago, as we drove home from a doctor visit, my 4 year old little man wasn't feeling well, and I needed to cheer him up. So I asked Siri to play "The Chipmunks".  Now every morning on the way to school, I get to listen to The Chipmunks versions of "O Christmas Tree", "All I Want For Christmas is My Two Front Teeth" and "Jingle Bell Rock" along with a few other classics sung by the high-pitched little animals.
But Christmas and the holiday season have been on my mind for many months already.  As a portrait photographer, one of my favorite products to deliver to my clients is beautiful Christmas and Holiday cards.  I'll start designing card ideas for clients in April and May, because the photographs from their portrait session can always make a beautiful card to share with their friends and families.
Recently, a client was curious about her outfit selection, and wondered if their holiday outfits would work nicely with the Fall Foliage in the parks during this time of year.   So, I thought it would be a great idea to share a few examples of holiday card designs from previous sessions as inspiration for future portrait session clients.
While some clients specifically choose to dress in holiday outfits for their portraits, I have found that almost any selection of coordinated outfits will pair nicely with the variety of Christmas and Holiday Card templates I have acquired over the years.  My clients have even used images from their Spring and Summer portrait sessions for their cards, and most of the colors in my templates can be adjusted to match the color palette of my clients' outfits.  And honestly, I personally love traditional holiday outfits photographed outdoors with the beautiful Fall Foliage.  The colors work well together and complement each other nicely, especially when you included the beautiful, golden Fall sunshine.
After completing one session last year, one of my clients clapped her hands with excitement and said, "Yay! I can't wait to have my very own Carolyn Ann Ryan Photography Christmas cards this year!"  It seriously makes me smile every time I think about that moment and realized my cards were "a thing".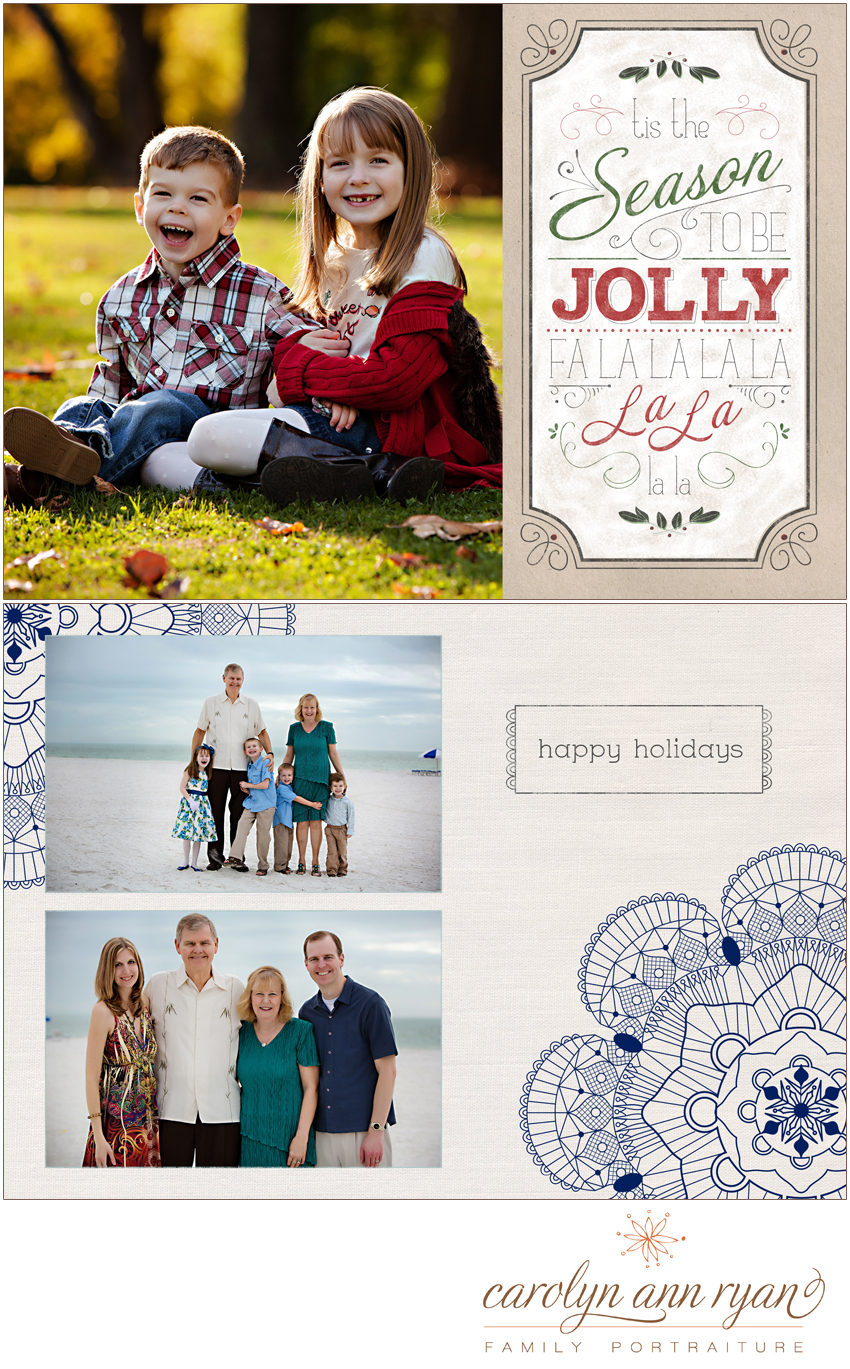 And I just love cards that include images on the front cover, inside and even the back of the card.  While I will include my logo on the back of all of my cards, I still love including a sweet and storytelling image on the back of my clients' cards (and my own too).  Sometimes, the back of the card is my favorite.  Here are a few of my favorite Back Covers from last year's holiday cards.

Hope these cards help to inspire your next portrait session and I continue to look forward to creating more cards for my incredible clients!!!
Vendors: Christmas and Holiday Card Templates from Design Aglow