I'm very excited for the upcoming Class of 2015 Senior Ambassador Program.  Are you ready for your REAL high school senior portrait experience?
If you want an opportunity to truly have fun with your HS Senior Portraits and if you want senior portraits that capture your true personality and don't look the same as everyone else's – then welcome to Carolyn Ann Ryan Photography's Senior Ambassador Program!
Our Senior Portraits focus on capturing the real you – different locations, multiple settings, multiple outfits and styles – all customized with you. We want to set a completely new bar for high school senior photography — and this is your opportunity to be a part of it.
And we want you to be a representative for Carolyn Ann Ryan Photography for your high school. Help us spread the word about Carolyn Ann Ryan Photography HS Senior Portraits.   And see your amazing portraits used in our marketing materials for the coming year!
Have questions? Keep reading for answers to some of the most common questions about the program.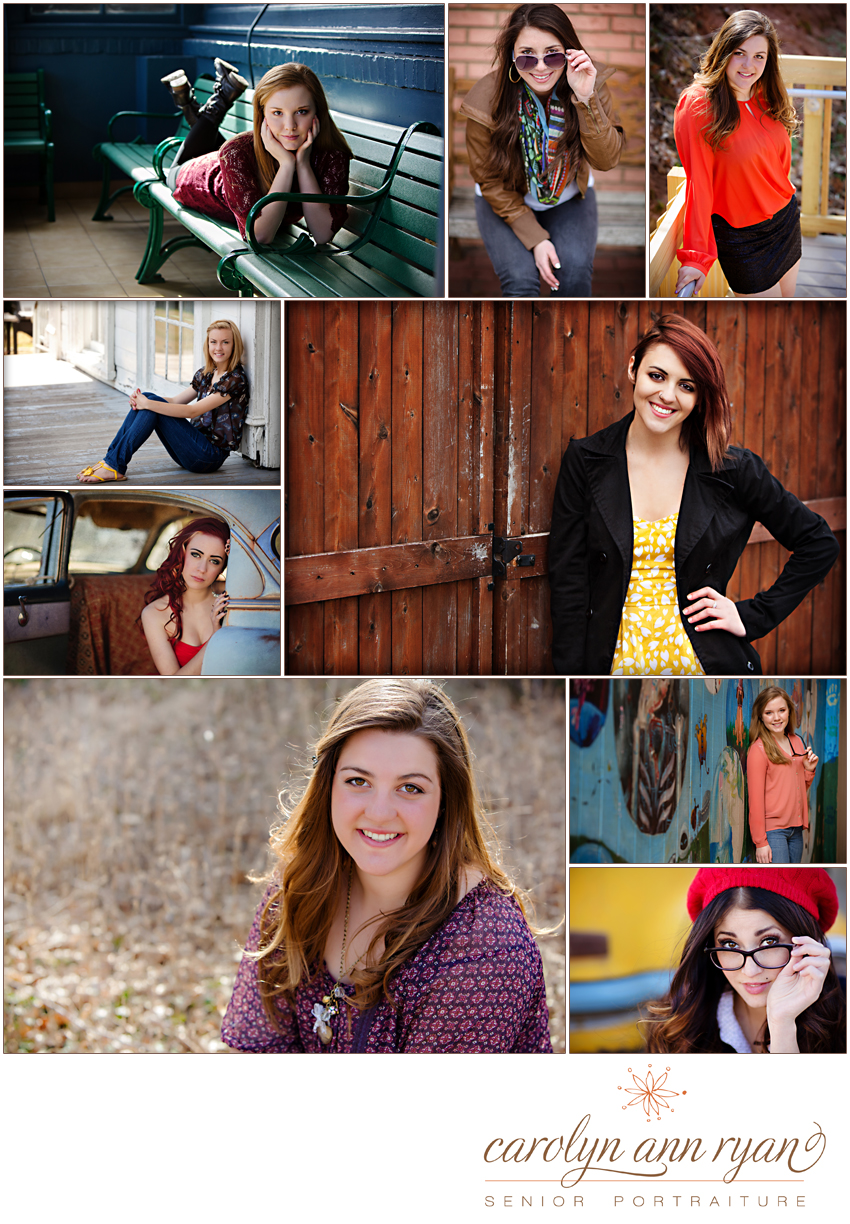 What exactly does being Senior Ambassador or representative mean?
I need high school students in the Class of 2015 (current HS Juniors), that are outgoing, fun and comfortable in front of the camera, and looking to have an incredible experience with their high school senior portrait session.  Modeling experience is absolutely NOT necessary. The goal is to have fun, and create images that show your true personality!
What's in it for you?
Participants selected for the 2014 Ambassador Program are eligible to receive over $850 worth of products and services, starting with your own custom senior photo session.  Want a chance to feel like a model for a day?  We will coordinate hair and make-up for your session as well to enhance the experience and ensure that you do feel like a model for your session!
How do I get involved?
High School Senior Ambassador Sessions are available for the following dates during High School Spring Breaks.  Sessions will take on place location at local parks and downtown areas.  Possible locations include: Fanwood, Scotch Plains, Westfield, Summit, Chatham, Berkeley Heights, and Metuchen. While most sessions will be outdoors and on location, if the weather doesn't cooperate for that day, we can do an indoor studio session at our new studio in Westfield, NJ located at 7 Elm Street above Eileen Fisher.
Senior Ambassador
Session Scheduling By School

School Name
Session Dates
Bishop George Ahr (Edison, NJ)
April 21, 2014
Kent Place (Summit, NJ)
March 19-20, 2014
Scotch Plains-Fanwood High School (Scotch Plains, NJ)
April 16, 2014
Union Catholic High School (Scotch Plains, NJ)
April 17, 2014
Union County Vocational-Technical Schools (Scotch Plains, NJ)
April 14, 2014
The Wardlaw-Hartridge School (Edison, NJ)
March 24 & 28, 2014
Westfield High School (Westfield, NJ)
April 18, 2014
What if my school is not listed?  
We can still coordinate a session date for you and you can help us start the High School Ambassador program at your school.  Just call us to learn more and we'll get a date scheduled for you.
Don't miss out on the opportunity to have an amazing, customized portrait session with the opportunity to earn a few perks including prints and a chance to compete for $1000 towards your college education!  To learn more about the program, call me at 908-889-5416 or email carolyn@carolynannryan.com. I'm happy to speak with you and/or your parents about this program, and I highly encourage bringing a parent along for your session. These sessions are lots of fun, and we want your parents to love these portraits too! And there is no minimum order requirement for any of my portrait sessions.
I look forward to hearing from you!!!